Living Stone Construction's President, Sean Sullivan, and the Principal of ID.ology Interior Design, Laura Sullivan, recently traveled to Charlotte and completed the four-day CAPS course seminar and received accreditation in doing so. By completing this course, Sean and Laura are now considered Certified Ag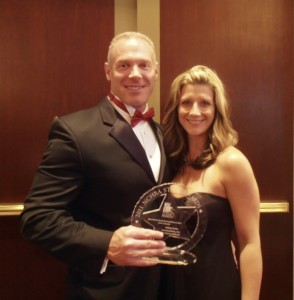 ing-In-Place Specialists (CAPS), meaning they are well versed and obtain the necessary skills essential to competing in the fastest growing segment of the residential remodeling industry: home modifications for the aging-in-place.
Living Stone and ID.ology Interior Design work together, presenting a team approach to all clients looking to build in the Asheville area. The team approach not only makes the building process more fun and enjoyable for clients of all ages, but it allows for both Living Stone and ID.ology to soundly communicate and remain cognizant of how the home will be utilized by clients in the future. Since the baby boomer generation is a large percentage of each company's clientele base, they work together and strive to build homes that will help clients effortlessly age-in-place; in other words, building a home that can easily be navigated through as clients age.
There are many building features and techniques that can allow for clients to age-in-place properly, however, some of the main components Living Stone and ID.ology focus on are: Lever door handles for easy opening, increased lighting throughout the home, accessible switches, additional railing for support and balance, curb-less (walk-in) showers, and extra blocking for towel bars and shower railing (which re-enforces these areas with extra wood in the walls). Living Stone and ID.ology believe in focusing on the now as well as the future, so that clients may safely enjoy their homes for many years down the road.