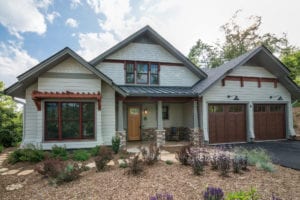 Christine Dowd knew what she didn't want in a house. She didn't want what she had, which was a house she'd built whose finishes were so rough she ripped a sweater on a door frame.
What she wanted was a beautiful new house in Thoms Estate, a north Asheville enclave of good taste and friendliness that had a couple of lots she liked. She was out there looking at them one day when a couple who lived beside one of the lots invited her in to look at the home that Living Stone Construction had built for them. Christine loved it (and she loved the couple).
"They graciously showed me around their home," she said. "They loved their house. It was so well designed. You could tell that someone had taken a lot of time to get all the details right. When I walked out of their beautiful home, even though I'd contemplated other builders, I'd made up my mind to go with Living Stone."
And so Christine, recently retired as a presenter for Apple, went to see Sean Sullivan at Living Stone Construction, a builder of green and energy-efficient homes whose work continues to win awards for design, function and price points.