ABOUT LIVING STONE | MEET OUR TEAM | LAURA KIRPATRICK SULLIVAN
Laura Kirkpatrick Sullivan
Interior Design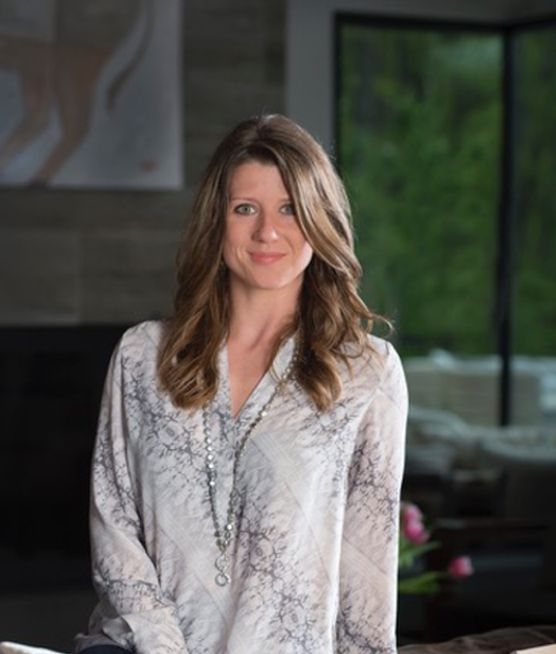 Change Artist: No Ho-Hum Hues for this designer
Article Published in Carolina Home + Garden, Winter 2012
Home and hearth, and the comfort they engender, figure prominently in Asheville interior designer Laura Kirkpatrick Sullivan's work. Her firm, ID.ology, offers interior design services to private and commercial clients, staging services for home sellers and consultation for anyone wishing to put their best, well-designed foot forward. Sullivan has had a lifelong love of the visual — and she likes to mix things up. Working a treasured family heirloom into a contemporary design is the type of challenge she enjoys. And she's as comfortable in a hardhat as she is flipping fabric swatches. The daughter of a real estate broker/contractor dad, Kirkpatrick earned her real estate brokerage and general contractor licensures in 2006.
CHG: Were you always visual or did someone, or something "turn on" your design switch?
LKS: From a very early age, I loved doing art. Later, all my middle and high school electives were art classes: drawing, painting and pottery. And my parents, though not particularly design-oriented themselves, encouraged my creativity. My mom worked in the medical field and I started college as a pre-med student, but after two years I realized that chemistry was definitely not my thing. I knew I'd be unhappy if I continued on that path. I switched to interior design and minored in art at Appalachian State. Even though it meant an extra year of school, it was worth it to know I'd found my true calling.
CHG: Any misconceptions about designers you need to dispel on a regular basis?
LKS: Sometimes people think we're unaffordable or fear we'll force our own taste on them, but both ideas couldn't be farther from the truth! I met a woman about a year ago who told me she feared using a designer because she thought they'd "make me put a leopard rug in my living room, even though I don't want one!" I explain to potential clients that even though I have my own taste, my job is to focus on their vision. I help them source products and provide resources. I also do projects using what people already own. In addition to the "take charge" myth, there are cost and value misconceptions about designers' work. In new construction, you spend $1 and save $4, on average, hiring a designer, because we can access better prices and save time. I build a unique relationship with each client and solve problems, which is fun. For example, I might have to incorporate a beloved family heirloom into a contemporary space so that everything reads cohesively, visually. You created a striking space by pairing dark cabinetry with cool green walls in a project — definitely more exciting than a monochromatic environment. If my clients are open to it, I like to bring in contrast to keep things visually interesting. When you think about it, people renovate to introduce change and new interest. I distance myself from the generic and love adding an element of surprise to my projects. Simple changes can achieve this too — even moving one piece of furniture. What's the most fun part of about it? By far, the best part is when they see it coming together, before completion. It's really rewarding when they're excited about the finished product. I bridge the very separate worlds of technicality and beauty.
CHG: How do you balance beauty with practicality?
LKS: I always try to find green products when sourcing for clients — things that are locally made, recyclable or products with low or no VOCs. I educate clients and help them weigh these choices and get the products that best suit them. While sustainable products may cost a bit more initially, they often save money in the long run.
CHG: What is the item you have in your own home that you value most — what's its provenance, and why do you love it?
LKS: The single thing I value most is a Tiffany style lamp I've owned for years — the fact that it's a reproduction exemplifies that value isn't always measured in dollars. I was still in college, living on a tight budget, when I found the lamp in, of all places, Tuesday Morning! It has a lovely green, yellow and tan shade and cost $75, which was probably about what I had in my checking account that day, but I bought it anyway, and it made me so happy — still does. I know I'll keep it forever.
CHG: Do you have a design pet peeve, a trend you've seen enough of?
LKS: I think colors are what come in and out of trend the most, and odd combinations are often short lived. Also, "themed" decorating quickly becomes dated — classic elements outlive fads, which cost people more money, sooner. And by classic, I don't mean traditional; contemporary style can be classic, too.
CHG: What about a trend you really like?
LKS: A trend I'm drawn to is the mixture of warm, crafty features with modern, industrial things. Hand crafted things can coexist with modern pieces and feel fresh. We achieved this feeling at one client's home by adding a room divider that features wooden slats. It has a spareness that's warmed up by the natural material.
CHG: Do you get the feeling that the world-at-large expects your home to be a "showplace" — like something out of magazine?
LKS: Well, it's funny. I don't have pets, but I do have a five-year-old son, and as everyone knows, toys and clutter go along with kids! My own home incorporates things I love and pieces I've gotten as gifts, but I'm so busy, it's the classic story of "the cobbler's children have no shoes." My son has inherited my love of art; in fact, we just did some stenciling together, and he created some nice color combinations. Who knows, I might be training my future business partner!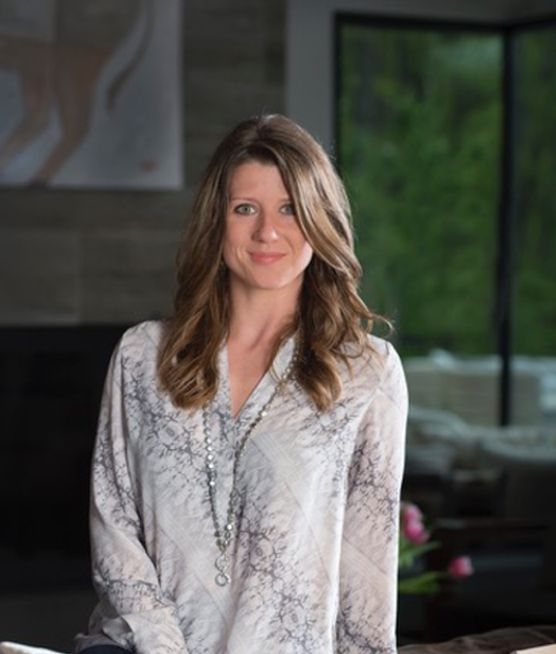 Contact Information
Office: 828-252-4403
1056 Haywood Rd
Asheville, NC 28806