We love the Houzz website which is geared for people looking to build a new construction home, remodel an existing home, or for decorating inspiration for their current home. We introduce all of our clients to Houzz so they can begin building an "ideabook" for their project. "Ideabooks" help us as we work in design and throughout the project to get a feel of the clients' tastes and preferences.
Living Stone has been awarded "Best in Houzz for design AND service for the last 3 years.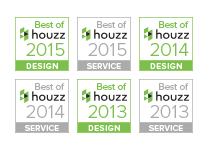 We have also received 26 reviews through this site.