Challenge of the Century : How to update a 100-year-old house without disturbing an inch of antique charm
Winter 2011 Issue
Visually residing somewhere between a village cottage and a mountain farmhouse, the sharp-gabled Montreat residence owned by Rick and Meredith Harbaugh was built in 1909. Used for many years as a summer home, it features only one add-on, a cluster of rooms accrued in the '40s. Interestingly, that area is in worse shape than the century-old bulk of the house, according to architect Maury Hurt.
"It's pretty decrepit. But the rest of the house is in great shape. It's solidly built; the drainage is good. They really knew what they were doing," he says, forging another notch for the quality of antique craftsmanship.
When Hurt and Black Mountain-based builder Sean Sullivan of Living Stone Construction unite to demolish the house's less-than-habitable back end and construct a major addition in its place, they'll take care to preserve the structure's dignified, traditional aesthetic — because owners Rick and Meredith Harbaugh expect nothing less. Experienced house rehabbers, "they really appreciate what it takes to fix up older homes," says Sullivan. "Their overall intention is to preserve these houses' original character."
Indeed, Sullivan says his clients "are adamant about not changing the look or finishes of this house."
Meredith recounts that she and her daughter were both awestruck when they stepped into the empty structure, basking in its cheerful hardiness and marveling at the excellent condition of the original woodwork. "We knew right away this was the house we wanted," she says.
The Harbaughs have zigzagged between the Black Mountain area and San Francisco the last few years for Rick's work, and are now finally settling in their happy place. Parents of three teenaged children, the couple praises the Montreat home for its "great bones" and its remarkably intact interior embellishments: Heart-pine floors, trim, molding, and doors will all stay as-is.
And yet, charm and livability often dwell in separate spheres. "There is no insulation," reveals Sullivan, "and the floor plan is not very functional. There's no real, usable kitchen, no central place to meet and greet guests, no master bedroom suite. The downstairs is really just a bunch of rooms."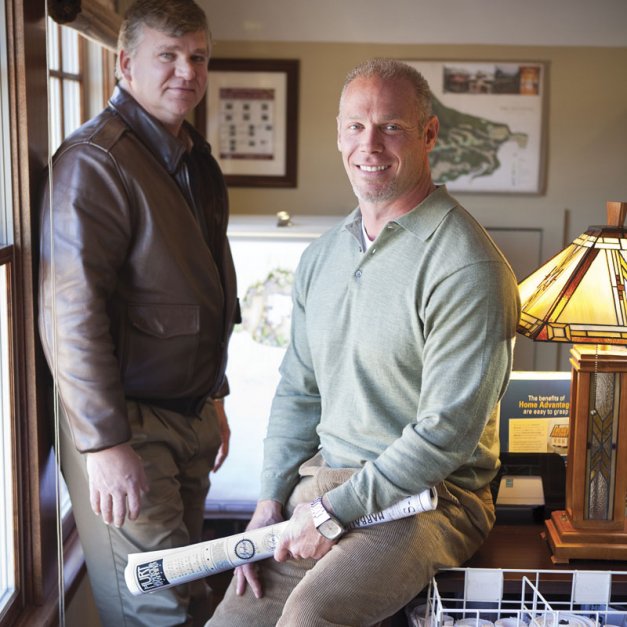 What was once a back porch became a dark, isolated kitchen during the war-era addition. Once it's shifted back toward the house's center, the room will regains its rightful place. Widened and lightened, it will also answer the contemporary requirement that a kitchen be an accessible social hub.
"It will be much larger," confirms Hurt, who reveals that a few discreet skylights will enhance atmosphere. "If skylights are used sensitively and trimmed out correctly, most people don't notice that, 'Hey, this old house has skylights.' They just notice that there's lots of light. It's all about working it into the older design."
The addition's other components will include the sorely needed master-bedroom suite, a sitting room, a laundry room, a pair of porches to answer the front side's wraparound verandah, and an expansive patio with a double-sided fireplace that will heat both that space and the kitchen. The new back end will bring the house from 1,700 square feet to 2,400.
But it's not the size that counts. "What we're going for is a cohesive home," says Hurt. "The entire addition will complement the geometry of the existing house. We'll be milling all the new siding to match the old."
And when it's finished, he says, "you'd have a hard time, both inside and out, figuring out where the old house stopped and the new one began."
It's the sort of kindly deception cherished by Harbaugh. "We renovated one house from the 1950s, and with the final attention to trim and other detail, people were asking what year it was built, even guessing the '20s and '30s," she says. According to notes on their current architectural plans, the couple will choose the native stone to be used on the new patio and chimneys.
"In all of the houses that we've done," says Harbaugh, "I've wanted it to look and feel as though it's been there forever. I don't want anyone walking in thinking, 'Oh, this is new.'"
Sure, dramatic transformations have their place — but only if the situation calls for high drama. "Where people make mistakes," believes Harbaugh, "is in trying to turn a small, plain house into a Craftsman or a rustic home into a New York City loft. Every house has a soul, and sometimes the best thing you can do is just let it be."