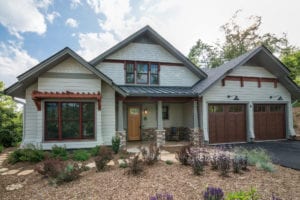 Christine Dowd knew what she didn't want in a house. She didn't want what she had, which was a house she'd built whose finishes were so rough she ripped a sweater on a door frame. What she wanted was a beautiful new house in Thoms Estate, a north Asheville enclave of good taste and friendliness that had a couple of lots she liked. She was out there looking at them one day when a couple who lived beside one of the lots invited her in to look at the home that Living Stone Construction had built for them. Christine loved it (and she loved the couple).
"They graciously showed me around their home," she said. "They loved their house. It was so well designed. You could tell that someone had taken a lot of time to get all the details right. When I walked out of their beautiful home, even though I'd contemplated other builders, I'd made up my mind to go with Living Stone."
And so Christine, recently retired as a presenter for Apple, went to see Sean Sullivan at Living Stone Construction, a builder of green and energy-efficient homes whose work continues to win awards for design, function and price points. Christine knew from past experience what she wanted in her next house. She told Sean and the Living Stone team that she wanted a fireplace with a raised hearth. She wanted a walk-in shower. She wanted an island in the kitchen, and a pantry. "And a big closet," she said, laughing. "I should have started with the big closet. I had a huge long list, as a matter of fact."
None of it was a problem for Living Stone, a preferred builder and renovation expert for many planned communities and homeowners in the Asheville area. All of the changes Christine suggested were incorporated into the design of her open floorplan home, including a room divider – not in the original floor plan – that separates her living room from the dining room. "Living Stone said, 'if it's doable, we'll do it,'" she said. "They looked at her list and said, 'OK, we can do that.'"
Sean even helped Christine decide which of the two lots she was considering at Thoms Estate would be better, enabling her get the house plan that best accommodated her tastes and budget. She discovered that site selection to maximize a homeowner's dreams is integral to the Living Stone process.
Living Stone builds custom homes of all types. It also offers several semi-custom homes that it can modify to a family's needs and lifestyle. Christine selected the Alexandra Cottage, a Craftsman-style home that she configured to include three bedrooms (she uses one as a cozy den) and three full bathrooms. The beautiful home has all the Arts & Crafts details she loves, such as built-in bookshelves, pillars on the front porch and corbels that accent the apex of the rooflines.
Because the plan was similar to the neighbors', Sean suggested that the exterior be changed just enough to make Christine's home stand out distinctively. She readily agreed, trusting his honed sense of design. "Nobody would think it would be the same house," she said.
Christine can't say enough about Heidi Tauriainen, a designer with ID.ology Interior Design who works closely with Living Stone Construction (design services are part of Living Stone's seamless design-and-build process).
"Heidi made sure all my choices were right. She was invaluable," Christine said. "The whole process between Living Stone and ID.ology is phenomenal. All designers should have such an arrangement. Heidi would look things up and say 'here are five different door handles and which do you think would look best in your house.' Not that I had to make all the choices, but still. It was nice. I was still working then and wouldn't have had the time to concentrate on all of them."
The superintendent overseeing the building project called Christine every day to give her an update and to offer suggestions and solutions. Recently, he brought her a fire pit. The other day, he picked up a propane tank that she needed. "That's way beyond what anyone needs to do," Christine said. "There was a lot of attention to detail. They had fabulous trim carpenters. Everything is high-end in this house."
Living Stone builds homes meant to be lived in far into the homeowner's lives. The "aging in place" design means that Christine could live on the main floor of her two-story home.
"My joke is that when I get older, I can put the towel and sheets on the steps and my guests can serve themselves," she said. "Aging in place means that there is no step from the garage to the house. My shower is a (curbless) walk-in. All the light switches are of the rocker type. Living Stone even put the electrical outlets higher than normal so you don't have to bend down far to plug something in."
A part of the Living Stone process that Christine really appreciated happened close to her move-in date. Sean walked through the home and highlighted touch-up areas with blue painters tape. "Sean doesn't want you to move in unless everything is absolutely perfect," she said. "He just has to have everything perfect. And I like everything perfect as well. We were a match made in heaven."
Christine moved into her new home in January 2016. Now, she loves showing it off to guests. "The first thing they do is walk in and say that it's beautiful," she said. "They say, 'oh wow, this is amazing.' My friends appreciate how gorgeous it is. And it is! It's gorgeous. I mean, pinch me."