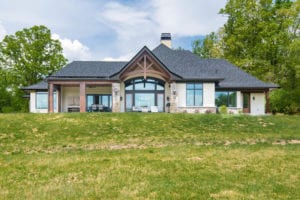 Sid and Donna Trapp had dreamed up their ideal home long before they contacted Living Stone Construction. "We wanted the perfect home to retire in, and we had come up with a lot of ideas over a number of years," says Sid. "It was important to hire someone who could understand and support our vision.
"I was intrigued by the design-build concept, so we were specifically looking for a design-build firm. We received lots of recommendations for Living Stone, and after meeting with Sean, we knew they were the right choice."
The Trapps were clear with Sean about their goals from the beginning. "We wanted a green build," says Donna. "An environmentally-friendly home was important to us. We also wanted an aging-in-place design so that our home would be accessible to anyone, regardless of age or abilities."
"Sean showed us available plans," recalls Sid. "But we wanted to start from scratch. And he was able to accommodate us. We worked with Living Stone's wonderful architect, John Petri. He's a visionary, and a true multifaceted thinker. Without his involvement, none of this would have been possible."
Living Stone built a sprawling, 4000 square-foot, single-level home on the Trapp's eight acres of land. The home features a universal aging-in-place design, with a wide-open floor plan and extra-wide doors to accommodate anyone of any ability. For energy efficiency, the home features radiant floor heating and solar panels. "The house has a platinum rating of 17," says Sid. "That's not very common. It's about the best you can get."
The house also features large, vaulted ceilings with custom timber work; folding doors for seamless indoor/outdoor summer living; expansive gathering spaces perfect for entertaining large groups; and a large, eight-burner stovetop for whipping up gourmet meals. "My husband is quite the chef," says Donna.
The home's style is a unique fusion between Western North Carolina and French Country styles. "We have traveled to France, and we just loved the French Country style," reflects Donna. "It's so cozy and charming. Laura from IDOlogy really helped us pull the design together. She kept us on track, and let us know at every stage what had to be done next. She gave us design tips, and hooked us up with the right vendors."
"We had a very solid idea of what we wanted," adds Sid. "She really respected that. She didn't try to steer us toward her own ideas. She helped us with research, planning, and coordination. She made that part of the process enjoyable."
Sid found the whole building process surprisingly pleasant. "Donna comes from a long line of builders. I had never built a house before, so I didn't know what to expect. I had heard that it could be very stressful. But we had the opposite experience, thanks to everyone we worked with. Michael Bates, the superintendent, was a joy to be around. He answered calls promptly, and was very professional.
"Sean is very diligent and careful about the people he selects to work on his homes, and it shows. They're just good people all the way around. It took 1½ years to build our house. But we developed real friendships with Sean and his team that have lasted until today. It was an extremely positive experience, and we would happily recommend Living Stone to anyone."