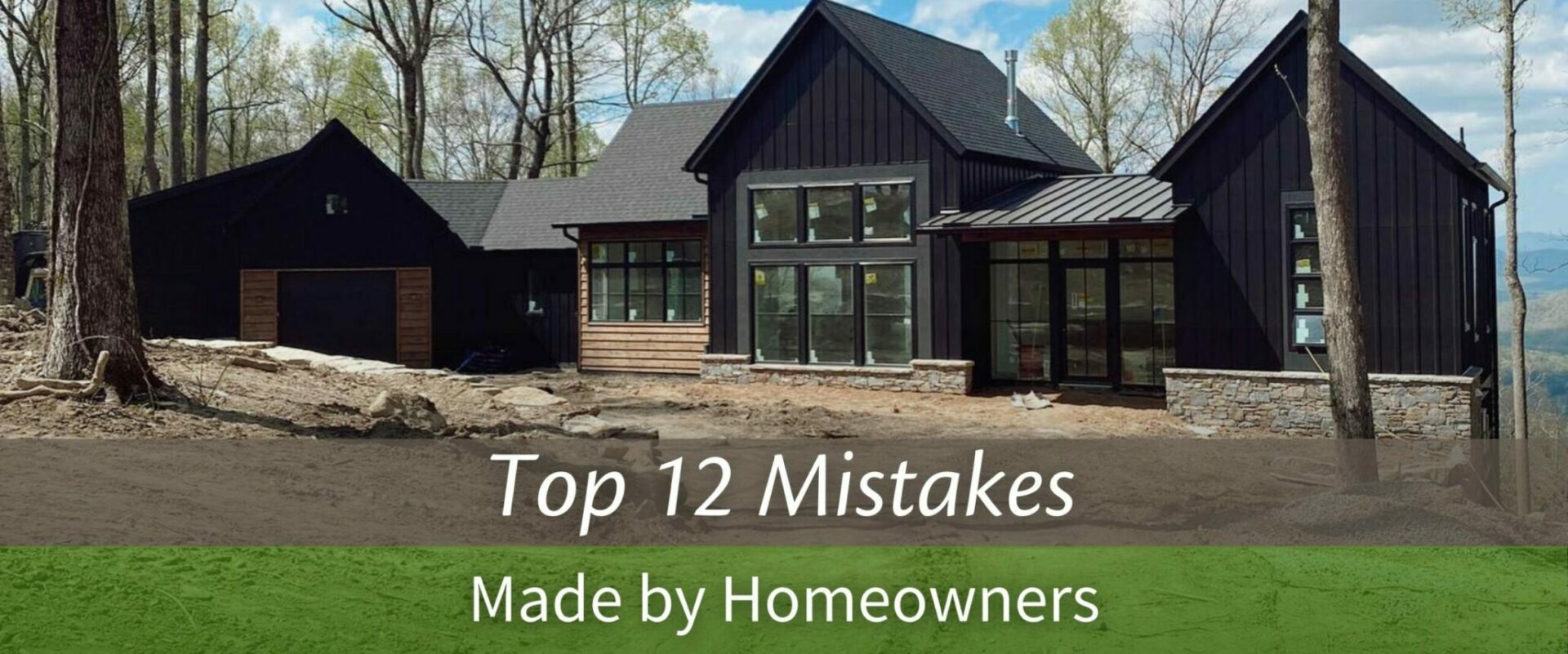 Building a Quality Custom Home
Mistakes are Unavoidable. I've made a few myself, I've learned a lot from them, and I want to share that knowledge. This blog post is a chapter from my book Building a Quality Custom Home. It's meant to help homeowners through the entire custom-home building process, with easy-to-read practical information.
What are the top 12 mistakes made by homeowners?
You could build a home with a great design and great features and finishes, but if you build it in the wrong location or on the wrong lot, you could be in real trouble.
Solution: Remember: location, location, location. Purchase the best lot you can manage, even if it means waiting an extra year before beginning construction.
2. Trying to build a custom home without a professional builder.
Building a custom home is more complex than most people realize. It takes skilled professionals years to learn the business and even then changes in the industry, materials, and codes make it difficult to keep up.
Solution: Find a competent builder you can trust. Negotiate a reasonable fee for their services and hire them.
3. Purchasing a ready-made plan thinking it will save you money.
Building someone else's design or dream (especially one that was designed for someone in another city and state) may not be the wisest choice.
Solution: Purchase a ready-made plan only if your lot is standard and you don't need to modify the plan.
4. Choosing a builder primarily because of price.
The expression "you get what you pay for" applies to the homebuilding process. If you've heard horror stories about people's experience with their builder, it usually can be attributed to someone trying to get a deal.
Solution: Your home is a major investment. Make an informed, purposeful, thoughtful decision and don't be lured by the lowest bid.
5. Biting off more than you can chew.
In an appreciating market, the rise in value can cover this mistake, but in a flat or declining market, it can be disastrous.
Solution: Know what you can afford and stick to your budget.
6. Hiring a builder when your gut instinct tells you not to.
Solution: After careful research and comparing builders, go with your instinct, not the discounted price.
7. Making choices for your home that only you love but everyone else hates.
Solution: Get good counsel from your builder, architect, interior designer, and real estate professional before you make your decisions.
8. Expecting workers to be on your job every day from 7:00 a.m. until 4:00 p.m.
Solution: Recognize that some days no work is scheduled at all because inspections may be taking place, or a project that started before yours requires follow-up work, or rain has caused a change in the schedule.
9. Underestimating the importance of making all selections before construction.
Solution: Make all selections prior to construction and enjoy the building process.
10. Homeowners giving direction to subcontractors on the job.
Solution: Communicate only with the superintendent or interior designer. The superintendent is the only person on the job who has all the information related to your project. Subcontractors have only one piece of the puzzle. You can visit the job site during scheduled appointments with the superintendent who can answer your questions and explain what you will be seeing.
11. Not understanding the "Change Order" process.
Solution: Discuss the builder's Change Order process with him and be sure you are clear with how it works. Cooperating fully with this process will go a long way toward your enjoyment of the whole project.
12. Moving in before the punch list is complete.
If you move in before you have signed off on the completion of the punch list, what would normally take 2 weeks will take up to 6 months due to working around the homeowner's schedule, extra cleaning, touch-ups, etc.
Solution: Finalize the punch list and agree on its completion before moving into your new home.