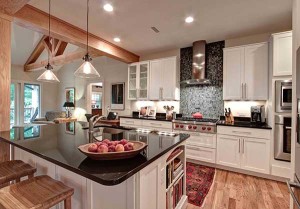 "The energy efficiency of the house has made it very comfortable through some very extreme weather and our energy bills have been remarkably low. I cannot believe how well we did on energy costs every month. The energy star rating of the home has really paid off. Truly, I haven't had energy costs this low in 20 years." Gary Holstein 
Every home we build is Energy Star Certified.  Why?
With ENERGY STAR, you know you are making the right decision—for your wallet, for your family, and for the environment—bringing these important benefits:
Lower Utility Bills
By using less energy for heating, cooling, and water heating, ENERGY STAR certified homes deliver approximately 20% savings on annual utility bills. Over the 7 to 8 years that a typical family lives in a home, you can save thousands of dollars in maintenance cost.
Enhanced Performance
In ENERGY STAR certified homes, comfort is ensured with consistent temperatures between and across rooms; indoor air quality is enhanced by reducing dust, pollen, bugs, and excessive humidity; and durability is improved with comprehensive water protection, windows that block damaging sunlight, and better grade equipment.
Environmental Protection
The energy used in our homes often comes from the burning of fossil fuels at power plants. So, by using less energy to operate, ENERGY STAR certified homes help to prevent air pollution—an added benefit for today's environmentally-conscious consumer looking for "green" choices. For more information about Energy Star visit energystar.gov