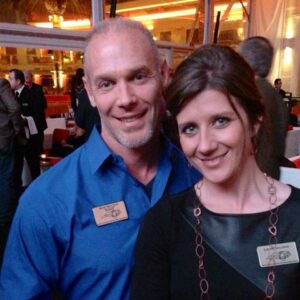 Being part of a great team can yield wonderful results. No one knows this better than Sean Sullivan, owner of Living Stone Construction, and Laura Sullivan, owner of ID.ology Interior Design, both located in the Asheville area. Not only do Sean and Laura sometimes work together on the same projects – they're a team off the job site, as well. This happily married couple has managed to strike a great balance that has led to exceptional accomplishments. One such accomplishment is The Rockcliff home – an award-winning Asheville project on which Living Stone Construction served as the builder and ID.ology served as the interior design firm. North Carolina Design talked to Sean and Laura to find out more about this spectacular home, and how their solid teamwork helped them achieve award-winning results.
Images Courtesy of Living Stone Construction ©
When it comes to The Rockcliff, Sean and Laura were both winners. ID.ology won the Asheville HBA PACE Award for Best Interior Merchandising, while Living Stone Construction won the Asheville HBA Gold Craftsmanship Award, as well as a NCHBA STARS award for Best Single Family Home in its price range. In addition, Living Stone's architect partner, Retro+Fit Design won the Asheville HBA PACE Award for best plan design for The Rockcliff.
The Rockcliff offered a rare opportunity for Sean and Laura to work directly together. "Typically when we work on the same project, Sean oversees the quality and the process and ensures that everything goes as it should, and I work with the client on making selections." Laura explains. "While we do discuss some framing and layout ideas, we don't collaborate as much as you might think. However, because The Rockcliff was a model home and Sean was acting as the interim owner, we ended up working directly together a great deal."
From the beginning, Sean and Laura had a specific style and buyer in mind. "This is definitely a Craftsman home, but we wanted it to have a 'mountain modern' spin," notes Laura. "It has the natural textures, clean lines, and wood accents you expect in a Craftsman, but we gave it a more modern color palette, with cool colors that balance beautifully with the warm wood tones."
Sean adds, "As far as potential buyers go, we wanted the home to appeal to empty nesters who have friends or adult children who may want to come visit. The house has main-level living with a universal aging-in-place design, and features two additional bedrooms upstairs with elevator access."
Laura and Sean also worked together to achieve a specific feel for the home. "There wasn't a ton of square footage, so one of the key components was making the home feel spacious and airy," Sean notes. "We achieved this partly through the footprint, with vaulted ceilings, a large great-room and big doorways. But Laura really accentuated those things and brought them to life through the selections. She was able to preserve that spacious feel, while still maintaining a warmth and coziness."
While they have very different perspectives and skills, the opportunity to work closely together was one of both Sean's and Laura's favorite part of the equation. "Sean is a technical, logistic, prospect guy," Laura observes. "That's true," Sean concedes. "I am all about the logistics, while she's all about the feel of the home. We both bring different strengths to the equation, and we balance each other."
"Working together allowed us to learn and grow so much," Laura notes. "We both really love what we do, and we were able to put our two minds together and bounce ideas off each other. It was rewarding, refreshing and really special that this beautiful, award-winning home that came together so successfully was the product of the two of us collaborating together."