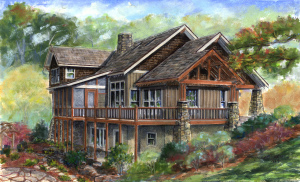 Bill and Rebecca Heartz got everything they wanted in the house that Living Stone Construction built for them.
They live in a 4,200-square-foot, three-bedroom house in Southcliff, a luxury community in Fairview that is a 10-minute drive from downtown Asheville.  "We wanted a casual house with an elegance to it, sort of a mountain retreat. We feel that we really achieved that," Rebecca said. "Our home is a very calming place. We're up in the trees. We get up in the morning and hear the birds sing and look out at the mountains."
The Heartzes like to have their morning coffee on their big screen porch. Sometimes they'll walk to different vantage points along the wrap-around deck. Later in the afternoon, Bill might relax in the hammock on the patio on the lower level. If the evening is chilly, which isn't rare in the mountains even during summer, the couple might sit with a glass of wine in front of the outdoor fireplace.
"Several times we've had company over and gathered all the rocking chairs around the fireplace after dinner and had wonderful conversations," Rebecca said. "It's so conducive to good conversation."
Rebecca, who worked in social work, retired as executive director of an adoption agency in Seattle. Bill retired as a civil engineer, working in hazardous and radioactive waste cleanup, a job that took them all around the world. Rebecca grew up in Atlanta and visited the mountains of western North Carolina as a child. She and Bill camped here when he was working on his doctorate at N.C. State University. "We always thought this would be a neat place to come to when we retired," she said.
When they finally did, they traveled around the country and decided Asheville was the place for them. It's close to relatives in Atlanta. And the Living Stone-designed house is close to their hearts.
"Living Stone was one of the builders recommended to us by the Beverly-Hanks sales manager at Southcliff," Bill said. "We knew Living Stone had built several houses here. I met with Mike Bates, one of their project managers, and he took us to see homes they had built. He was very professional, and we were impressed with the quality of the construction and the features in their homes."
As an engineer, Bill wanted to be involved during construction, "and we knew that it would be critical to have a builder that would be comfortable with that," he said. Living Stone was, which was another plus. "We were out here about every day," he said.
"It was a good, collaborative effort," Rebecca said. "When something would come up, they would call us and say, 'can you come out and make a decision? Here are the possibilities.' When we wanted to personalize the house, they would come up with ways to minimize the cost."
"We had some previous experience with builders," Bill said, "where if you wanted to change anything, they wouldn't do it or they'd charge $50,000 more. That was such a negative approach. Living Stone has a positive, 'can do' approach. They made it easy for us."
Reflecting the Heartzes' lifestyle, Living Stone built a house that is comfortable, easy to maintain and elegant without being formal. It's the kind of place where a guest can put his feet up and feel like he fits the house without asking the house to conform to him. The house "is exactly what we wanted," Rebecca said. "Every day we say we made the right decision. There's nothing that we would change. We can't say that about the other houses we've lived in."
Theirs is a wonderful house in which to entertain. Which is good, because they have lots of friends and family in the Southeast. The house is big enough to accommodate Bill's workshop, near the exercise room in the lower level. He builds furniture and is looking forward to doing more. "I've got some projects for him," his wife said.
Bill appreciates Living Stone's building homes with "aging in place" in mind. Features that help keep owners in their homes for years include curbless showers, elevator shafts and electrical outlets that are easy to reach. "Not that we need them," Rebecca said, "but you never know."
"We want to stay here for as long as possible," Bill said.