North Carolina Home Builder magazine WINTER 2014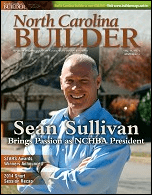 Empowerment. That's what incoming-NCHBA President Sean Sullivan says is going to be a hallmark of his term in 2015. He wants to empower members, local associations and executive officers with the tools they need to continue to keep North Carolina the #1 state in our federation.
North Carolina makes up about 10 percent of the National Association of Home Builders membership, so our state plays a critical and powerful role there. However, Sullivan says he thinks our NCHBA membership is somewhat lethargic, and he wants to reinvigorate the membership in 2015.
"We lost a lot of tradespeople in the Great Recession, and as a result, our local associations lost a lot of members," Sullivan said. "We also have many executive officers who have less than two years of experience on the job. I want to enable the local associations, by providing assistance and mentorship, especially to executive officers."
Sullivan said he's noticed over the last two years as a Senior Officer that many associations are struggling with volunteers for their boards/ committees, NC BUILD-PAC fundraising, and attendance at state and national meetings.
"It's important for HBA leadership to be involved with NCHBA and attend Board Meetings. Our locals also need a BUILD-PAC trustee and need to know what that role entails," he said. "This year, I really want to challenge local leadership to become more involved and get a real understanding of how they should work with NCHBA and NAHB to accomplish positive things for our industry."
Sullivan was first introduced to the NCHBA when he served as President of the Asheville Home Builders Association in 2008. He enjoyed getting involved and so he continued to attend meetings after his term was over.
"I saw a lot of benefit in networking with other professionals that weren't directly competing with my business," he said. He then served as Region 10 Vice President for two years and expressed an interest in becoming a Senior Officer.
"I saw how important home building is to our state. I also realized what a big role North Carolina plays in NAHB and shaping policy," he said. "It's a great opportunity to make a difference."
Sullivan says he's excited about his role in an industry that has provided him with so much over the past 20 years. His interest in building started at an early age when he tinkered in his father's home workshop, which moved with the family every time they went to a new city in his father's U. S. Marine Corps career. Later he developed a particular interest in residential construction after participating in service projects with Habitat for Humanity while majoring in Business Management with an emphasis in Leadership and Marketing at Roger Williams University in Rhode Island.
After graduating from college, Sullivan decided to move to Asheville, North Carolina, where he has now lived for 20 years. He took a job working with a high-end custom builder in the area, starting out in the field as a carpenter and eventually moving in to the office, working to generate sales leads. Unfortunately, Sullivan and the rest of the staff were laid off at the threat of the owner going out of business.
While unfortunate, that proved to be a turning point. Sullivan immediately went to work hanging siding the very same day and started taking various subcontractor positions with a friend. They started their own business in 1995 and became fully licensed for custom building in 2001.
"My background before starting Living Stone Construction prepared me well for building houses," said Sullivan. "I've literally done nearly every job on the construction site."
He joined the Asheville Home Builders Association in 1997. Throughout the years, he's taken advantage of the many networking and educational benefits available to members, including earning several professional designations, both through NCHBA's North Carolina Builder Institute program and NAHB Education. Sullivan is an Accredited Master Builder, Certified Green Professional and Certified Aging-in-Place Specialist.
"I regularly attend continuing education courses and I bring all of my staff to the 21st Century Building Expo & Conference in Charlotte," Sullivan said. "These experiences –not just the designations, but the overall experience of achieving them –have shaped my business."
Sullivan said he doesn't think enough builders take advantage of the competitive edge and marketing capabilities that come with having a professional designation. He plans to emphasize that more as he visits local associations this year.
"I'm excited to be your President in 2015," Sullivan said. "Whatever your HBA is struggling with, I want the North Carolina Home Builders Association to be available to help you overcome it."