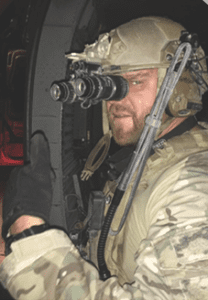 On August 3rd 2014, the men of ODA 3131 lost a brother, and the Gass family lost a father, husband, brother, and son when Girard "Jerry" Gass died of a massive heart attack while on a combat operation in Afghanistan. Jerry suffered a heart attack after conducting a helicopter infiltration to secure a highly contested governmental district center in remote Afghanistan. The last thing Jerry did before he died was evacuate a fellow soldier off of the battlefield. Despite the pain of Jerry's death, there was some consolation in knowing that Jerry died doing what he loved to do. This was a devastating loss to the team, the company, and the Special Forces Regiment. Jerry was truly larger than life, not only in stature but also in kindness and dedication to his teammates and his job. Jerry was one of the best Special Forces Medics in the Regiment, and strived every day to make himself and those around him just a little better. Jerry is survived by his wife, Nancy, and his two small children, Charlie and Stella.  The men of ODA 3131 have pledged to do everything in our power to help Nancy, Charlie, and Stella, and to let them know that their sacrifice is never forgotten.
This year we have been given the privilege to participate in the annual Beef & Beer Benefit held by The Duskin and Stephens Foundation. During this year's Beef and Beer Benefit, ODA 3131 will have two tables set up displaying items for a silent auction. All the proceeds from the ODA 3131 tables will go directly towards supporting the Gass family. Donations of any kind, to include cash donations, merchandise, gift certificates, event tickets, or anything that we can auction off to help us raise money for the Gass family would be appreciated. If you would like to make a cash donation, this can be done through The Duskin and Stephens Foundation website (duskinandstephens.com) by clicking the "Donations" then "Donate" buttons. Select "Add special instructions to recipient", and type "Donation for Gass Family". If you would like to donate something for us to auction or have any questions, please contact me at the email address below.
Thank you for your support.