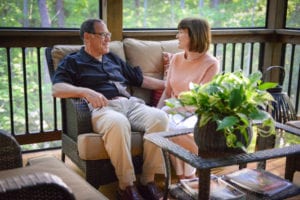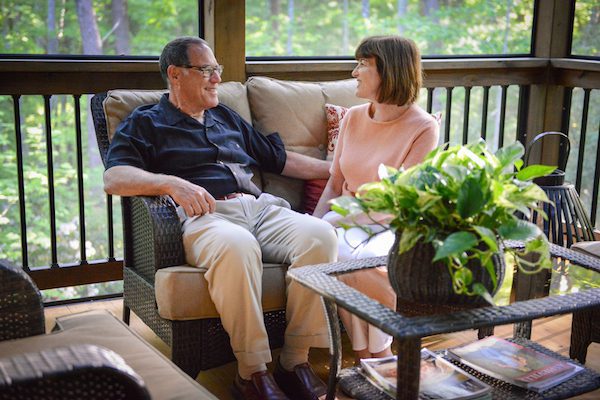 It's not unusual for Bonnie and Gary Holstein to strike up a conversation with another couple. And it's not unusual for them to become friends with new acquaintances, something that the Holsteins love about Asheville and Southcliff, the community south of town where they live their Living Stone Construction-built home.
"Just the other day, we struck up a conversation with another couple at the Battery Park Book Exchange & Champagne Bar, and they invited us to a concert at their home," Bonnie said. She spoke as she and Gary were driving home from the Biltmore Estate, where they had exchanged numbers with another couple while taking photos of tulips.
People who have moved to Asheville from all over the country are interested in meeting other people and are receptive to sharing their stories and lives, something that appeals to Bonnie and Gary. The couple moved from Florida to Southcliff in Fairview after walking through a model home that Living Stone built there. They knew they had found their builder.
"We could see the quality in the home and didn't interview with other builders," Bonnie said. "We felt very comfortable with Sean. The whole team made it very easy. Laura Sullivan especially was a significant factor in helping the process flow smoothly. She knew what choices we needed to make at each step and guided us in each direction. All the members demonstrated at every point along the way that they cared not only about giving us a nice house but also a wonderful home."
Living Stone built a contemporary home for the Holsteins that is Craftsman on the outside and very much Bonnie and Gary on the inside. The 2,200-square-foot, three-bedroom, three-bath house has an open floor plan that suits their way of living. It's near Southcliff's network of hiking trails and not far from friends the Holsteins made there. "It very much feels like a neighborhood," Bonnie said. After seeing Living Stone's work there, they were eager to move into the community and into a house that Sean built.
Gary is a management consultant who has worked all over the world. Bonnie worked in real estate before she retired. They moved to the area two years ago and couldn't be happier. "The seasons, the hiking, the beauty, the wildlife, the people," Bonnie said, ticking off a few of her favorite things. The Osher Lifelong Learning Institute at UNC Asheville is certainly of them. Gary has taken classes on birds, genealogy and sustainable agriculture. Bonnie has taken everything from medical ethics to stand-up comedy. "I didn't know I'd have to stand up and perform," she said, laughing. Though it was very much outside the box for her, she's glad she did it.
Lifelong learning is important to the Holsteins, as is living in a city that values diversity. They like being on the UNCA campus, around younger and older people who have a wide range of views and ideas. "We all seem to appreciate each other and live together happily," Bonnie said of her new city mates. "I love the fact that when I go to yoga class, for instance, there are folks there of all ages, male and female. We even had a little boy in there a couple of weeks ago."
Bonnie practices yoga because it quiets her mind and keeps her flexible. Gary golfs and takes photos of flowers and wildlife, Bonnie said, mentioning that she could see a hawk and wild turkey as they drove along the street where they live. They both like to hike.
Bonnie helps as a volunteer at CarePartners Health Services and MANNA FoodBank. Gary plans to volunteer as well, when he fully retires. They love going to author readings and events at Malaprop's Bookstore/Café in Asheville. Both serious readers, they plan to start a couple's group that will enjoy supper and book discussions.
"You could do something morning, noon and night seven days a week here and stay active and stimulated and really connected to your community," Bonnie said. "We have made wonderful friends in the almost two years we've been here. This is a very community-minded place.
"Our house suits us perfectly. We live in it exactly the way we hoped we would."
See the full gallery of their home here!