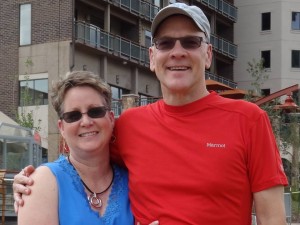 Written by PAUL CLARK
Living Stone Construction homeowners Jim and Susan Jones fell in love with Asheville years ago while visiting their daughter, a student at UNC Asheville. The Joneses were living in Greensboro at the time, where Jim had a Chevrolet dealership. He was developing a luxury apartment community there when he and Susan decided to move to the mountains in 2010.
They found a steep lot in The Settlings of Black Mountain, and then found Living Stone Construction. The Joneses asked company president Sean Sullivan to advise them about building on the slope, "and we got to know him and we became friends," Jim said. "We saw everything Sean built, and that gave us confidence. This is the second custom home we've built, so we know how hard it is to find a good builder."
Jim describes his Living Stone house as "a contemporary take on Arts & Crafts." He and Susan spent a lot of time designing the house with Living Stone, utilizing an in-house process that the company offers clients. Homeowners can work with Living Stone's interior designer to incorporate their lifestyles into preferences that include furnishings and finishes.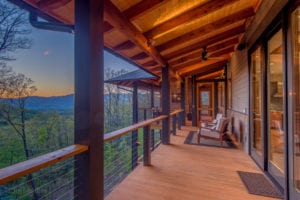 The 3,200-square-foot house that the Joneses built has an additional 1,800 square feet of covered outdoor living space. Windows frame views of the outside, making the Joneses, both hikers, feel a part of the mountains. The decks and porches look out toward Mount Mitchell. "The greatest thing about having something nice is being able to share it," Jim said.
Living Stone built the house in a way that allows Jim and Susan to show their collection of artwork. That was important to them. "Each piece has a story behind it – where we bought it, what was going on in our lives. To me, that's what a good art collection is all about," Jim said. "Some pieces are valuable, and some pieces are valuable only to us."
But each one gets excellent treatment in a home that itself is beautiful to behold. The Joneses worked with a lighting designer to display them all properly. "We literally placed each one on the walls all over the house to see what worked," Jim said. The stair tower that Living Stone built brings natural light into the house, creating the kind of illumination that shows artwork well. That's one of the things that the Joneses love about their comfortable mountain home. Another thing is how close it is to Asheville.
"I don't think you could find a city of 80,000 people that offers more interesting things to do," Jim said. "Great food, great music and festivals. Black Mountain is friendly and charming. We know all the people that own the restaurants. For us, it's the best of both worlds."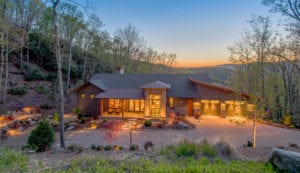 The Joneses have found in The Settings of Black Mountain what they were looking for – a community that is part of a small town with plenty of personality. With its quaint shops and folksy manner, Black Mountain is very much that place. "It's fun to see the town coming into its own," Jim said. "People that are moving here, we don't want to change things. We moved here because we like the way Black Mountain is already."
Jim has been "running and gunning" for so long now that he's liking this transition to a slower life. "It's been great to have this life change, to be able in some ways to start all over again," he said. "It feels good to slow down. The speed of Black Mountain is nice."
He and Susan have been exploring the many small towns in the mountains. And they garden. They've been planting a lot of perennials and small trees with the expectation that their lot will soon look like a natural extension of the western North Carolina landscape. The house already feels like a part of its surroundings.
Jim found Living Stone's approach to building to be as professional as the commercial construction he was used to. "Sean had spreadsheets and schedules – he spoke my language," Jim said. "A measure of a business person is the people that they partner with. Sean has a very impressive business group that has a strong, honest business ethic."
Click here to see all the photos of this home!