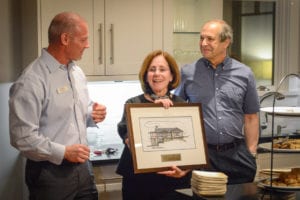 By Paul Clark
George Ackerman and Stanlee Stahl were sitting in their home in West Orange, N.J. one day reading The New York Times when they opened an insert extolling the virtues of western North Carolina. They'd been thinking about a place for their second home, one that would become their retirement home. So they thought they'd come down to have a look.
"Everything we read said Asheville was a great place to retire to," Stanlee said. In December 2007 they toured homes for sale and went by The Settings of Black Mountain. They liked that it wasn't a golf community and that its clubhouse wasn't huge and impersonal. The development was close to downtown Asheville and close to a conservative synagogue. The Settings fit all their criteria, as did Asheville.
"Asheville is not a large city, but it has good amenities for a place this size," George said. Stanlee agreed, noting the city's great restaurants. Asheville is attracting national press for its culinary scene; young chefs tired of working in larger cities are moving here to try their hand with local ingredients grown in farms that dot the region.
"And Asheville has excellent cultural opportunities," Stanlee noted. "You have UNC Asheville and the opportunity to continue learning there." (The Osher Lifelong Learning Institute on campus provides learning, leadership, research and community service opportunities for retirees.) "When we looked at communities where we would like to go, Asheville was always in the top 20 communities," she said. 
Stanlee travels all over the country as the executive vice president of the Jewish Foundation for the Righteous. The foundation raises money to help support the more than 600 non-Jews who risked their lives during World War II to save the lives of Jews, many complete strangers. The recipients of the foundation's help live in 21 countries. Stanlee is honored to support their selfless sacrifice.
George renovates and resells homes in northern New Jersey. He worked for years as a consultant who helped businesses with organizational effectiveness. For the past 15 years, he's been "a serial entrepreneur," he said, starting a series of business. Renovating homes "is the latest and the last," he said. He'll probably work until his wife retires, he said. Stanlee said she probably never will. She loves working. 
They bought their lot at The Settings in 2008 and met Sean through their architect. They interviewed another builder as well and liked them both but liked Sean a little better. "He listened," Stanlee said. "We were impressed with his honesty. He was generous with his time."
"If we had any questions, he was gracious in taking our calls," even before they hired him, George said. "He had extraordinary knowledge. The fact that he'd teamed up with architects speeded things up. We liked Living Stone's design-build concept. Having the architect, builder and designer work together is a good idea."
Though the couple used a different designer, they were pleased with the length of time it took to complete the house, Stanlee said. The 3,200-square-foot Craftsman house has three bedrooms and three and a half baths. It has a 270-degree view of the mountains around it and makes Stanlee, a self-described city kid, feel like she's in the country.
She and George didn't want a large house. Rather, they wanted one that used space efficiently, something the Living Stone-constructed house does. The house has an open floor plan for easy entertaining. The kitchen reflects Stanlee's love for cooking and baking. "It's just a joy to cook and clean here," she said. The cleaning part "sounds crazy, but it's true. We like an uncluttered look. When you look at the front of our house, it's not massive. It's nestled into the hill. The rooms flow from one to another. There's an economy and efficiency of space."
George likes that it's a "green" house with a geothermal heating system. "Sean builds a tight house," he said. He noted some of the features he especially likes – the Shaker-front cabinets and the Craftsman-style molding and windows among them. If they ever sell, a young family will be attracted to the den downstairs, near her office, Stanlee said. George likes his office too – it's where he plays his classical music and jazz as loudly as he wants. 
Former runners who competed in New York City marathons, George and Stanlee  hike now and love the area for the outdoor opportunities. "The people at The Settings are wonderful. And everyone we've met in Asheville has been wonderful," Stanlee said. "We are happy campers."