Is it Better to Buy a Plan or Design Custom?
Read this Before You Decide
Should you buy a ready-made plan for constructing your new home? It depends.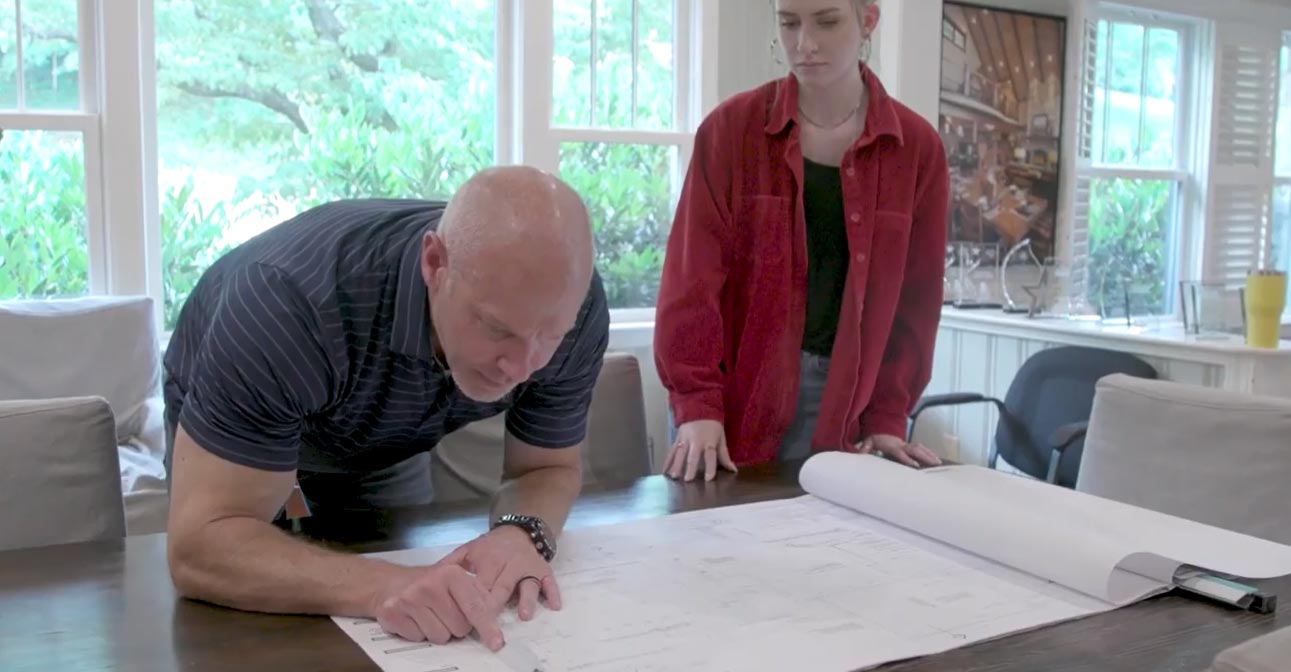 Cut and Paste
If you have a large lot that doesn't have restrictive setbacks, then finding and buying a ready-made plan may work well for you. It's important to know that most plans you find in a plan book are designed for specific lot sizes and regular shaped lots. If your lot is long and narrow and the plan is designed for a lot that's narrow and long (just the opposite), you could have a problem.
Sometimes people will use the "cut-and-paste" method. A couple will take a plan from a plan book and "cut-and-paste" it to make it fit their lot. Be careful with this method.
When the Plan Works
If you can find a plan that fits on your lot with little or no changes, it may be a good option for you. However, very few people are completely happy with a design they find in a plan book without making minor to major modifications.
If you are thinking of buying a ready-made plan and just shrinking it, it almost certainly will not work.
Most good, custom-home builders have successfully built homes from ready-made plans. Typically they purchase the rights for the plan, make any needed modifications, and proceed to build the house.
Be aware that ready-made plans are copyrighted. Your builder can purchase the rights for the plan, but be sure this step is not overlooked. You can get in real trouble down the road if you shortcut this step.
Design/Build Package
For people who don't choose a standard plan, some builders offer a complete design/build package. Usually this process starts by the builder getting you a complete survey in order to properly evaluate the lot; it's important to take into account its positive and negative features. The builder then takes the homeowner's completed list of their prioritized needs and wants and begins the design process. At your initial meeting with the builder, it's an important step to review the design and to ensure the architect and homeowner have a complete and thorough understanding of your program (needs and wants) and budget. Once the builder has clearly identified your objectives, he can work with the architect to create a unique, quality, custom home—the home of your dreams.
As a builder, I've found that it doesn't necessarily cost any more (and often we've discovered cost savings) by first focusing on and designing what our homeowners most need while also taking into account what they want. In doing so, we've found great success because the process allows us to optimize the conditions of the specific and unique lot instead of having to work from an existing design by enlarging or shrinking areas in the home.
With clear objectives and a good plan, you can focus your energy and resources on your unique needs for your new home.
Building A Quality Custom Home
Want to know more? This book by Sean Sullivan is full of helpful information in easy-to-read chapters like this blog post.
It is a step-by-step guide to the "must-know" issues of building your dream home. Discover the custom-home construction secrets that could save you headaches, heartaches, and thousands (if not tens of thousands) of dollars.