Building a low-maintenance home takes a lot of thought, experience, and a dedication to doing things right. Just because a builder says he uses "hardie siding", doesn't mean that he will build you a low-maintenance home. We have worked for years to put together the right recipe with a combination of products, vendors, and specific application practices that create the perfect solution for our clients. Enjoy the posts below to see our promises turn into action.
To look at Peggy and Bill Scheu's house, you'd think it was nearly new. But it's not, and the Scheus credit its handsomeness to the skill and materials that Living Stone Construction used when it built their Montreat residence nine years ago. Today, the house is as durable as it is beautiful.
"We designed it with that in mind," Peggy said at home recently. "The planning was carefully done."
"The quality of the work is just superb," Bill said.
With seven grandchildren and a growing family, Bill and Peggy Scheu (pronounced "Shy") built the home with elegant endurance in mind. Working with Living Stone CEO Sean Sullivan, Peggy and Bill chose finish materials and a style of home that could stand up to the rambunctious family gatherings that happen especially during summer, Thanksgiving and Christmas.
"This is really become the gathering place for the family," Bill said, chuckling softly. A house like that needs to hold up, and the Scheu residence has done just that, looking as beautiful as it did the day Sullivan handed the Jacksonville, Florida couple the keys.
The Treehouse – the Scheus' name for their house – looks as if it hasn't aged a bit. With four bedrooms and five bathrooms, as well as lots of outdoor living space in the deck and the screened porch, the 3,600-square-foot house is fit enough to keep up with the youngest grandchildren.
"We're very pleased with the way it works for our family," Peggy said.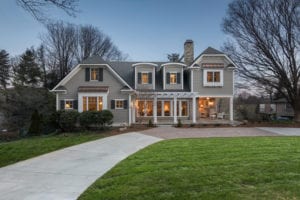 "This house smells…different than the rest. Actually, it doesn't really have a smell?!" said Mrs. Lee as she walked into the Parade of Homes entry I was manning last year. Mrs. Lee, like many other visitors in years past, noticed what most builders are missing across the country, the fact that IAQ is important.
I had the privilege, two years ago, of sitting in a research lab think tank with seven other top builders from across the nation. The question was posed to us "What is the greatest concern that you have about the homes that you are building today"? Each builder at the table said that they were concerned about building homes so tight that they might be poisoning the people that move into them. When they got to me, I was dumbfounded by their answers and had to ask my own question, "Are you using a rater"?